7.12.2008
Yesterday was a calm and lazy day. After dropping Toe-Knee off at the airport, the boys, michelle, and I decided to grab some food over at Pho Cali. The conversations we had were quite interesting, but when are they not?!
The rest of the day was full of laziness, until night time when we all decided to head over to Min Sok Chon...It was apparent that everyone wanted to go out, but without the efforts of dressing up and what not. The food was delicious, and the company was even better. Here's a few pics from the night. Cheers to new friends and the ones that actually stick around :)
here's guilly and his sister. it was so cute to see their brother/sister bond...it made me miss my brothers like crazy.
a new friend is in progress here...this is josephine...her question of the night was: "What is a bumsville?" trust us josephine, we'll show you.
after a few shots of that killer soju, a few of us opted for bowls over the shot glasses
this picture makes me excited because i was fortunate enough to sit on Jenny's lap. tee hee
welp, thanks for another night full of good times.
to jenny, josephine, and celeste...it was nice to have you ladies there as well...we can't wait to hang out again!! true story.
xoxx
Posted by

annabelle
at 10:17 AM
No comments:

7.11.2008
Rachel, an old-timer friend of mine came down from T-tizzle with her sister Michaela. We planned a nice little day at the beach and were able to convince Michelle to come with us. We headed over the bridge to Coronado...when we got to the beach we missed a very important sign in front of the lifeguard tower that read the following:
stringrays?...hmmm...we kind of figured out there were stingrays in the water the hard way...Rachel unfortunately got stung by one when she went in for a dip. She was bummed.
After Rachels incident with the sting ray, the top to her bathing suit broke! This led to super bumness.
Regardless of bad situations that happened earlier that day, we managed to have a enjoy each other's company and have a good time.
Thanks for the visit ladies. Come down again soon!
After the girls left in mid afternoon, Michelle and I decided to seek revenge on the Midnight Marauders. Unfortunately for Bin, he left his car keys at the house...and Toe-Knee had his bike storaged inside of the house...I kept the saran wrap that they used on my truck and Michelle's car the other day...I thought it would come in handy during payback time...and so it did. Terry was able to get in on the madness when she got home from work. Please check out exhibit A-I.
Exhibit A
Exhibit B
Exhibit C
Exhibit D
Exhibit E
Exhibit F
Exhibit G
this is Guilly's car...We finished Bin and TK's bike before Guilly even came over. I somehow convinced Guilly to leave his keys so I could create havoc while everyone went out to U-31. What a bummer.
Exhibit H
Exhibit I
Sucks to be TAA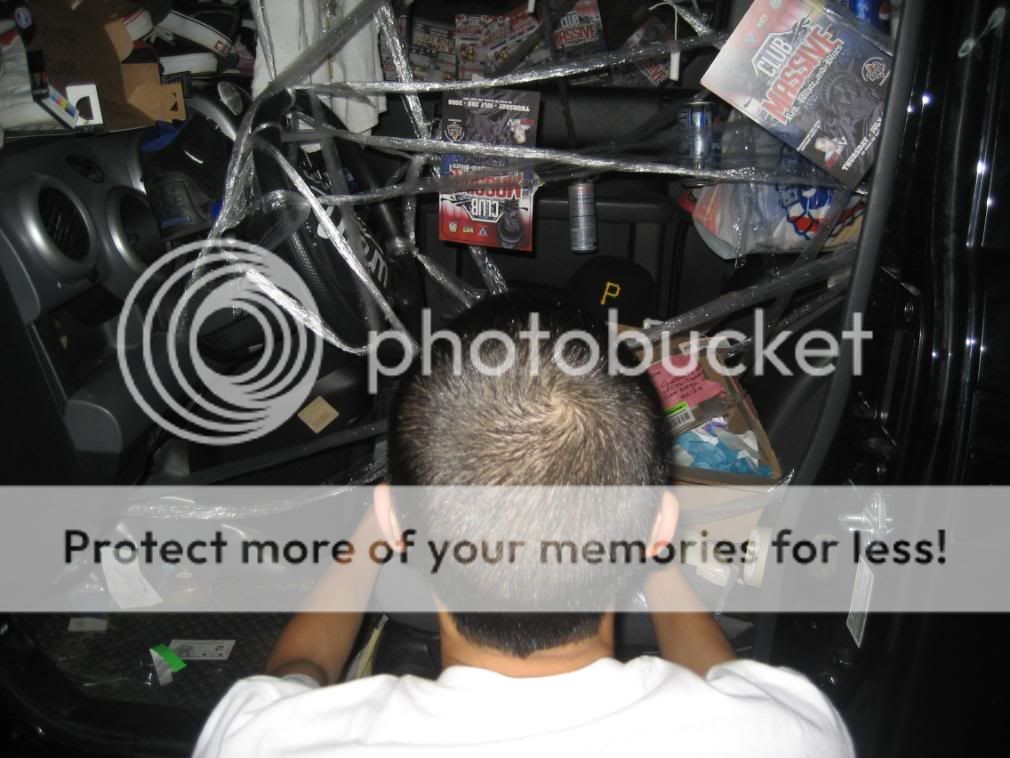 BUMMED!
don't think that bitches can't play this game too!
until next time...
ps
we have video footage on the events...we'll try to get them up soon!
xoxx
Posted by

annabelle
at 3:32 PM
2 comments:

A few of us decided to head to Design Within Reach to hear out a lecture from Daniel Fogelson, who works with Emeco. Emeco is a company that designs timeless chairs...some of which have been collaborations with famous designers such as Frank Gehry and Phillip Starck.
To check out the Emeco website click
HERE
To check out the Design Within Reach website click
HERE
nothing beats free wine, cheese, and crackers
A Chaise Longue-Designed by Le Corbusier
Barcelona Chair-Mies Van Der Rohe
Womb Chair-Eero Saarinen
i'm glad you were as excited as i was
Daniel Fogelson
Afterward, we headed towards Sushi Deli to grab a bite to eat.
Good times...it's nice to have buddies that you can do this kind of stuff with. Thanks guys.
Click
HERE
to check out TK's cover on the day.
xoxx
Posted by

annabelle
at 12:35 AM
No comments:

7.09.2008
Aside from
John and Kate plus 8
. There's another show that Bumsville can't get enough of called Ace of Cakes. If you have yet to discover it, you've been missing out for a long while now. You can find the show playing on the food network randomly throughout the day, and I promise it's super addicting.
The show is about a bakery located in Baltimore named Charm City Cakes. Chef Duff Goldman is the man responsible for starting all the cake commotion by opening up the bakery with a few of his friends...from then on their talents collided and they produced breath taking cakes. Here's a few pictures of the cakes they have made...Check out the show.
Click
HERE
for their original Site
Click
HERE
for their show's site
all pictures are off the
Charm City Cakes
website
xoxx
Posted by

annabelle
at 11:53 AM
No comments: